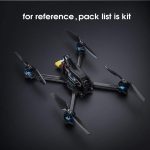 Hello All! I'm considering offering the TURBO BEE professional-build. It's a fantastic 4″ drone that competes with the 5'ers very well. Fast & a quick response make it a force.
It's a difficult build for non-expert soldering folks. The pads on the FC are REALLY TINY. The ESC isn't much better. This one requires a magnifier to solder it up.
Thoughts? Anyone interested? If there's enough interest I'll build it. I built one several months ago, for a friend.
Keep dronin'!
-Fred.
Fred